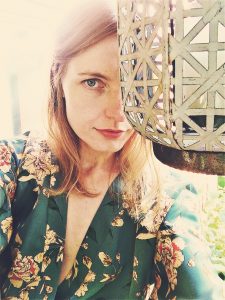 Contact: lauranau (a) yahoo.co.uk
Booking in Finland: tommi (a) stupido.fi
Bio
Lau Nau, aka Laura Naukkarinen, is one of the more interesting names in the Finnish music scene. Her songs are imbued with a cinematic breadth of vision and her idiosyncratic, finely honed soundworld builds on fragile, spectral otherness.
Besides of composing and performing as Lau Nau, she composes, produces and performs music for new films, silent films, theatre and sound installations, using both acoustic and electronic instruments and field recordings, combining everything from analogue synthesizers to found objects and her own voice. Her works have been nominated to various music prizes, as Teosto-, Emma-, Jussi- and Femma prizes.
Lau Nau's first solo albums were released in the US (Locust music 2005 & 2008). The debut album, 'Kuutarha', won acclaim from the likes of Pitchfork and Dusted, with The Wire naming the LP in their top 50 albums of 2005, and citing her Philadelphia show of that year amongst "60 concerts that shook the world". 
Lau Nau returns with her 5th album "Poseidon", released in three continents (Europe, USA, Japan). The album has garnered a wide acclaim across media and fans, won the main prize of Femma-gala and was nominated for the Emma prize (Finnish equivalent of Grammys) in the critics award category.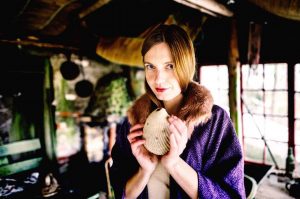 'Poseidon' is a suite of luminous, melancholic, world-weary songs that exist in a world of all their own, treading the line between chamber folk and experimental pop. Centered around Laura's beautiful voice and piano, the album also includes a small cast of guest musicians, including Helena Espvall, Matti Bye, Pekko Käppi, Antti Tolvi and Samuli Kosminen who has mixed and co-produced the album with Laura. Each song is a gem of its own, with lustrous melodies spun from the web of seasons, by turns ghostly and earthy.
Besides of Lau Nau, Laura Naukkarinen plays also in impro bands IAX and Bye/Fredriksson/Kosminen/Naukkarinen and has a solo synth/violin project Subatlantti. She has been playing in various bands as Maailma, Hertta Lussu Ässä, Kiila, Avarus, the Anaksimandros, Päivänsäde, Kemialliset Ystävät, Chamellows and others.
Selected albums: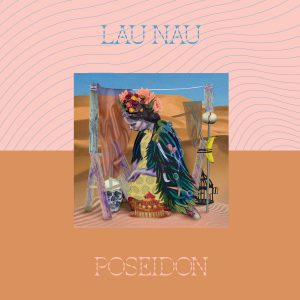 Lau Nau: Poseidon, LP, CD, digital (Fonal records, Finland; Beacon Sound, USA; Inpartmaint, Japan 2017)
Dire Wolves: Oceans of Green, LP, digital (Feeding Tube, USA 2017)
Dire Wolves: Excursions in Cloudland, LP, digital (Beyond Beyond is Beyond, USA 2017)
Lau Nau: Hem. Någonstans, Original score for Lotta Petronella's film, CD & Digital (Fonal  records 2015)
Maailma: Speculum LP, CD & Digital (Rotor 2014, Sweden)
Lau Nau: Valohiukkanen CD & LP & Digital (Fonal 2012, Finland)
Hertta Lussu Ässä: s/t LP & Digital (DeStilj 2011, USA)
Lau Nau & Kuupuu: Live at WNYC Ep, Digital (2010, USA)
Lau Nau: Nukkuu CD & LP & Digital & MC (Locust, Fonal & Yatzilewka USA/Finland/Russia, 2008)
Maailma: s/t, LP (Tjärnen 2008, Sweden)
Lau Nau: Kuutarha, CD & LP & Digital (Locust 2005, USA)
Päivänsäde: Puhalluspelto, LP (Eclipse 2004, USA)
Päivänsäde, Tamminauhat/Tulipesä-Tapes, CD-R (Whistle Along 2004, Belgium)
Päivänsäde, 2xMC (POK 2004, Finland)Kiila: Silmät Sulkaset, CD (Fonal & K-raak3 2004, Finland/Belgium)
Selected compositions: original scores for films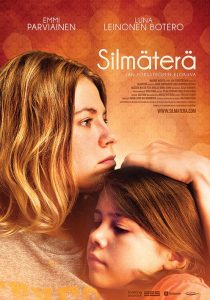 "Joitain tapoja hävittää ruumis" dir. Ria Bäckström & Hannes Renvall, short film 2017.
"Silmiesi tähden" dir. Anna-Mari Nousiainen, short film 2017.
"Se seitsemäs synti" dir. Tuisku Torkkeli & Aino Toivettula, short film 2016.
"HOME. Somewhere" dir. Lotta Petronella, full length documentary, Fisher King 2015.
"Silmäterä", dir. Jan Forsström, full feature film, Making movies 2013.
"No Whisper, No Sigh" digital photo essay, Magnum Photo 2006.
Selected compositions: live scores for silent films
Five short Finnish silent films from years 1918-1933, new recorded scores for the restored digital copy, concert Orion Helsinki 2017, Kino Iglu, Karkkila; KannuKino, Espoo; Suomalaisen Elokuvan Festivaali, Turku, Finland 2018.
"Berg-Ejving och hans hustru" (Victor Sjöström) with Matti Bye, Austrian Film museum 2018.
"Herr Arnes Pengar" (Mauritz Stiller) with Matti Bye, Cinemateket Stockholm 2017.
"Terje Vigen" (Victor Sjöström) with Matti Bye, Best of Norden festival, Nordiska muséet Stockholm 2017, San Francisco Silent Film Festival 2017 ja Blue Sea Film festival Rauma 2015.
"Suomen puu- ja paperiteollisuus" (Aho&Soldan 1930) with Niko Karlsson, Suomalaisen elokuvan festivaali 2017.
"The Adventures of Prince Achmed" (Lotte Reiniger 1926) with Bye/Fredriksson/Kosminen/Naukkarinen, WHS Teatteri Unioni and Festival Norpas 2016.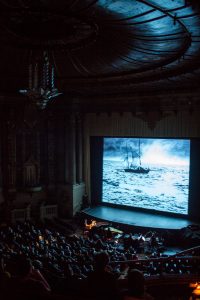 "The cabinet of Dr. Caligari" (Robert Wiene 1920), Turun taiteiden yö and Cinemadrome festivaali, Tampere 2015.
"Häxan" (Benjamin Christensen 1922), with Matti Bye Ensemble: Cinemateket Stockholm 2017; WHS Teatteri Union, 2015, San Francisco Silent Film Festival, 2010; Ordenshuset Brofästet, Stockholm 2009; Oslo Cinemateket, Oslo 2009; Bio Rex, Helsinki 2007. The music is released on a DVD, Svensk Filmindustri, 2008.
"La chute de la maison Usher" (Jean Epstein 1928), Cinemare, Rokumentti and Cinemadrome festival, 2014 and WHS Teatteri Union, 2015.
"Anna-Liisa" (Puro & Snellman 1922), Loud Silents festival, Reikäreuna festival and Vilimit festival, Finland 2014.
"La Passion de Joan d'Arc" (Carl Dreyer) with Matti Bye and Kristian Holmgren, Tromso Stumfilmdager, Norway 2007.
"Finnish psych", Anthology Film Archive, New York, USA 2006.
"Man and a Movie Camera" (Dziga Vertov) with Päivänsäde, Turun elokuva-arkisto, 2004.
Sync music
"Panama" dir. Pavel Vuckovic (Cannes official selection) 2015.
"Diamonds on Vinyl" dir. J.R.Hughto 2013.
"Underbelly", Australian prime time TV series, episode 2.04 2009.
Selected compositions: scores for theatre and dance

"Tähkäpää" dir. Alma Rajala, TEHDAS Teatteri, 2016.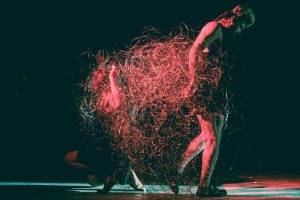 "Mustavalkoista" interactive theatre for seniors and children, dir. Pauliina Vesslin & Sarika Lipasti, Nurinpäin-kollektiivi 2016.
"Nurinpäin" theatre with workshop, dir. Pauliina Vesslin & Sarika Lipasti, Salon pikkuteatteri and touring 2014 -2017.
"Unicornis" dir. Alma Rajala, Turun kaupunginteatteri 2013.
"Balladen om Sejtes skatt" dir. Marika Parkkomäki, Bruksteatern 2013.
"Taidemaku" cor. Marianne Petters, 2012.
"Saarettaret, Metsättäret" cor. Marianne Petters 2011.
"Tuu hakee mut pois täältä" cor. Marianne Petters, 2009.
Sound installations:

"Pehmo" Soft mobile sculpture by Jenni Rope, sound by Laura Naukkarinen, Annantalo Helsinki 2018.
"Ole hyvä ja istu" with Andréa Vannucchi & Jussi Mattila (sculpture), Laura Naukkarinen (sound), Pimeän peitto, Perniö 2016.
"Ajan tiloja" with Kaj Fagerström (photo), Andréa Vannucchi (photo), Laura Naukkarinen (sound), Riitti soikoon-päivät, Kemiönsaari and Salon taidemuseo Veturitalli 2014.
"Hyljeksityt" with Tuula Nikulainen (sculpture) & Andrea Vannucchi (lights), Jungfruskär 2014, Pimeän peitto, Perniö 2013.
"Memento Illusia" with Aino Toivettula (graphics) & Sara Ilveskorpi (sculpture), Brinkkalan galleria, Turku 2012, Salon taidemuseo Veturitalli 2013 and Pimeän peitto, Perniö 2013.
"Visuaalinen partituuri", Saaren kartano 2012.
"Raudan Äänet" Matildan ruukki, 2011.
"Zoo No. 1.", music for Daido Moriyamas exhibition, Japan 2009.
Collaborations and appearances:
Enrico Coniglio & Matteo Uggeri: Open to the Sea (DRONARIVM 2017)
AGF & Various: Kuuntele! CD & Digital (AGF Producktion 2013, Finland)
Joshua Burkett: Xavier's birds 7″ (Time-Lag Records 2013, USA)
Kuupuu: Sisar LP (EM Records 2013, Japan)
Matti Bye: Drömt CD (Rotor 2009, Sweden)
QBICO V UNITE – Lauhkeat Lampaat with Kuupuu & Lau Nau, LP (QBICO 2007, Italy)
Kemialliset Ystävät: – CD & LP & Digital (Fonal 2007, Finland)
Lauhkeat Lampaat: The most pöllö LP (QBICO 2006, Italy)
Es: Sateenkaarisuudelma LP (K-raak3 2005, Begium)
Lauhkeat Lampaat: Mystery of Hyyry, MC (POK 2005, Finland)
Maniacs Dream: Die Learn No Way, LP (HP Cycle 2005)
Kemialliset Ystävät: NUUHA NI HAKA (Jewelled Antler Library 2004, USA)
Maniacs Dream, split 7″ w/Munuaissymposium 1960 (Lal Lal Lal 2004)
Avarus: Jänis vaahteran hännänkieliset seikkailut, 7″, (Audiobot 2004 [Belgia])
Master QSH, MC (Lal Lal Lal 2003)
The Anaksimandros: Camels Running through Life, MC (Lal Lal Lal, 2000)
Kemialliset Ystävät, split LP w/Echo is your love (If Society 1999)
Kemialliset Ystävät, CD-R (Huutomerkki 1998)
Lau Nau on compilations:
"SA-10" on Casiotone compilation 7 (Aotoao 2016)
"Oi kuolema" on "Benefit for the Recovery in Japan", digital release, Thrill Jockey / Fina, 2011.
"Sateenkaari James", "Mooste" on "Muu for ears 7", Muu ry., 2011.
"Ruususuu" on Rough Trade Shops: "Psych Folk 10", 2010
"Kulje halki kuutarhan" on Amorphous Androgynous: "A Monstrous Psychedelic Bubble Exploding In Your Mind Volume 3", 2010
"Lue Kartalta (live take)" WFMU, 2xCD, 20??
"Ruususuu" on "Zoo No. 1", a compilation for Moriyama Daido exhibition and photo book, CD, PowerShowelAudio, 2006
"Keskellä yötä" on compilation of midnight field recordings, CLaud_i, 2005
"Hidas kuula" on Gold Leaf Branches, Foxy Digitalis 3xCD, 2005
"Keinu taipuu alla" on Maan matoset CD, POK, 2005
Prizes and nominations:
2018 Femma prize, main category.
2018 Nomination for Emma prize, critic's choice category.
2014 Kemiönsaaren lähettiläs prize.
2014 Nomination for Jussi prize, category best original music for a film.
2013 Nomination for Teosto prize for the compositions on the album "Valohiukkanen".
2013 Nomination for Emma and Femma prizes.
2010 Kemiönsaaren kulttuuripalkinto prize.