Lau Nau: Puutarhassa, released January 31 2022 on Bandcamp & CD by Akti records.
In the summer 2020 Lau Nau did a video performance Live in the Orchard for the Munich based concert series frameless. She built a little transportable wagon that fits a modular synth, a miniature recording studio and a sound system, and created a concept for the performance where she made field recordings in the garden while playing the synth. This record includes two straight takes from the live performance, remixed with other material Lau Nau recorded in the same vein in the same place, a tiny village on an island in the Western coast of Finland.
Thank you Westers garden for the recording location, Sami Sänpäkkilä for filming the original concert, Toni Laakso for the assistance, frameless for the invitation. Thank you bees.
Punahattu
Kosmospyörät
Lasihuone
Ahvenkallio
Music, recording & mixing: Laura Naukkarinen in Kimito Island 2020.
Cover art by Jyrki Nissinen.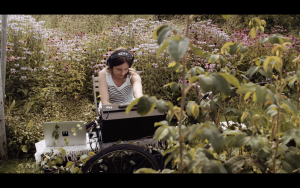 Layout by Kai Johansson.
https://launau.bandcamp.com/album/puutarhassa
Link to the original live video:
http://www.frameless-muenchen.de/?p=964